Futuralis
AWS Migration
Accelerator (MAC)
Simplify, Safeguard, and Supercharge Your Cloud Journey
Meet Your AWS Transformation Catalyst
Meet Futuralis AWS-MAC, a comprehensive AWS migration solution meticulously crafted to elevate your cloud journey. We leverage our extensive AWS consulting prowess to orchestrate a highly efficient and effective cloud migration. From the initial assessment to the final deployment, every crucial step is covered in our comprehensive product roadmap, leaving no room for guesswork.
Journey with us as we unlock your organization's full potential in digital transformation, through the prism of technical excellence and innovation.
Tap Into the Rewards of AWS Migration
The Cloud Journey, Simplified
Journeying to the cloud doesn't have to be complex. With Futuralis AWS-MAC, we simplify and streamline the process. We provide a clearly defined roadmap, automated tasks, and advanced AWS tools to navigate your cloud migration successfully.
Secured and Compliant – That's Our Promise
We believe in going beyond just data migration. Futuralis AWS-MAC ensures robust security and compliance. Gain granular control over user access, monitor your environment for potential threats, and stay ahead of industry standards.
Harness the Power of Infrastructure-as-Code
Futuralis AWS-MAC empowers you to make your infrastructure programmable, repeatable, and consistent. Through AWS CloudFormation, we enable easy replication of migration processes for future workloads, saving you time and enhancing reliability.
Our Comprehensive 12-Step Migration Roadmap
Our carefully designed Futuralis AWS-MAC roadmap covers everything from initial discovery and assessment to post-migration support, providing a holistic solution for every type of migration.
Our Migration roadmap is strategically divided into three phases, involving 12 steps: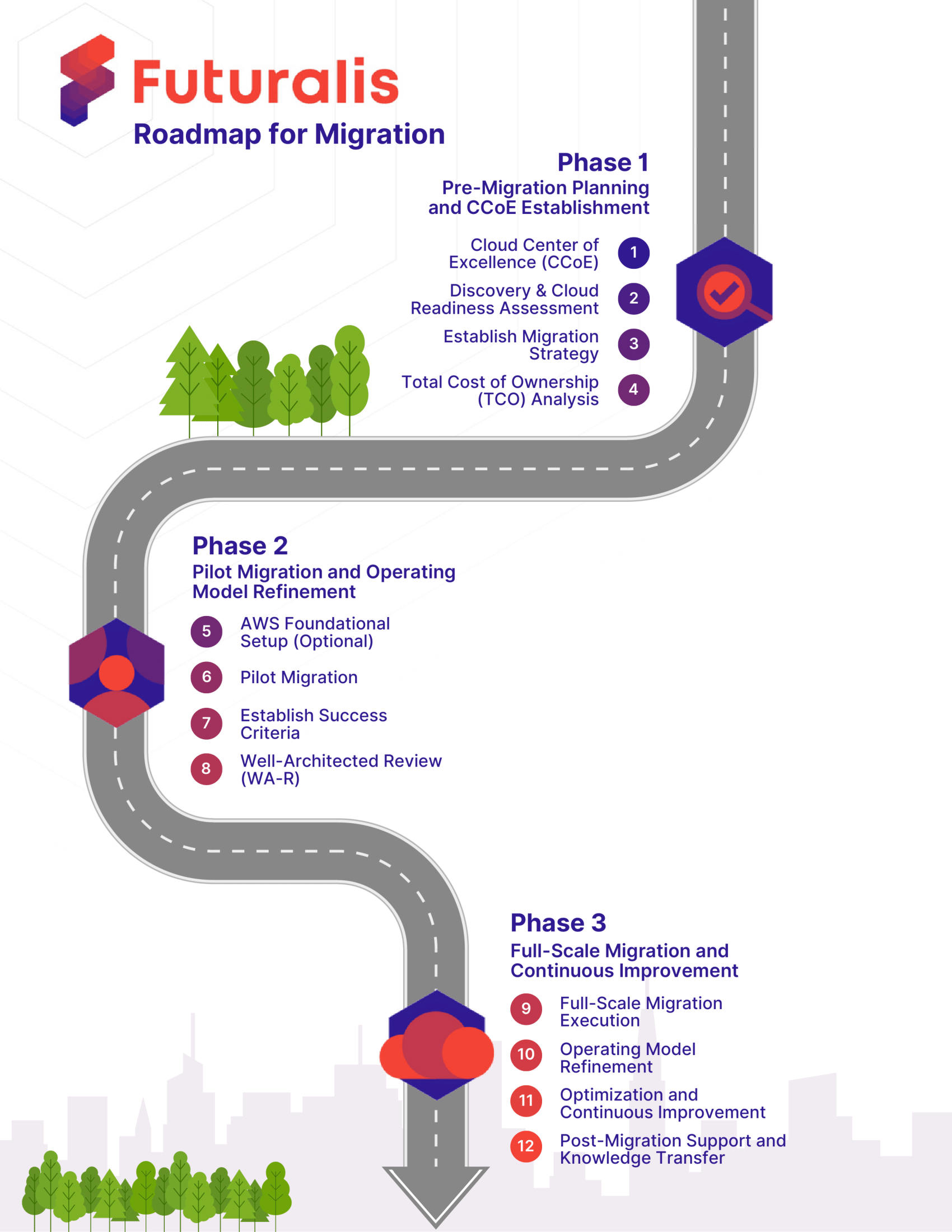 The Futuralis AWS-MAC Advantage
The Futuralis AWS-MAC offers several significant benefits for organizations looking to migrate their workloads to the AWS cloud:
Seamless Cloud Migration
With AWS-MAC, you can migrate your applications, data, and infrastructure to the AWS cloud smoothly and efficiently. Our comprehensive roadmap covers every stage of the migration process, from initial assessment to final deployment.
Advanced AWS Expertise
Benefit from our deep knowledge of AWS services and advanced consulting expertise. We leverage sophisticated AWS tools and best practices to provide an efficient and highly successful migration experience.
Risk Mitigation and Data Security
Security is a top priority in our approach. We integrate robust security measures into the migration process, ensuring data confidentiality, integrity, and regulatory compliance.
Cost Savings and Efficiency
By leveraging automation and infrastructure-as-code, AWS-MAC reduces manual
effort, human errors, and deployment time. This leads to greater efficiency and potential cost savings.
Optimized Performance
After migration, we focus on optimizing your AWS environment for performance, scalability, and cost-effectiveness, helping you get the most out of your investment in AWS.
Knowledge Transfer and Continuous Support
Beyond the migration process, we provide training to your IT teams, empowering them with AWS skills and best practices. We also offer ongoing support to ensure the stability and performance of your AWS environment.
Accelerated Digital Transformation
By streamlining your transition to AWS, AWS-MAC accelerates your journey towards digital transformation, enabling you to unlock the transformative power of AWS and keep pace with the demands of modern business.
Futuralis: Your AWS Advanced Tier Partner